Your Support & Food Deliveries in Nova Kakhovka
With over 2.5 months of not being able to perform deliveries due to the safety of volunteers & civilians we are back with a new coordinator and distributing food & essentials. It is, and always has been, our primary goal to support people in need during this truly devastating time. We have to always look out for the safety of people living in the occupation and July thru September had been especially dangerous.
Over the last few months we have been very productive. For the period from October 24th, 2022 to November 24th, 2022 our financial distribution was: 90,000 uah ($2,461.03) and we delivered over 800 kg of food and over 20 kg of other essentials like soap, detergent, and 480 diapers for disabled children and adults. We keep pushing forward each and every day and wish to thank our volunteers because without them this would be impossible. Most of all with out you we would not have the funds to keep our team strong and deliveries flowing.  We truly thank you for all your donations.
A few images from our deliveries:
'Ladies Night' Gloucester, MA
On December 1st, with the support of Blue River Diamonds, we were invited to be a part of Gloucester, MA annual 'Ladies Night' where stores in the center open late, host events, and welcome guests to shop and participate in festivities.  Neal, the owner of Blue River Diamonds, hosted a raffle and generously donated a beautiful necklace where all the proceeds went toward our cause.  We raised over $1000!  Truly amazing.  Thank you so much to all for your encouragement and support. 
Order your digital video message from Ukraine
Nadiia's sister Anya (right) lives in Nova Kahovka, Ukraine with her husband and son. She has been living in Russian occupied Ukrainian Kherson Region since the beginning of the war February 24th 2022. She is excited to have to opportunity to focus on recording positive greetings to people so far away.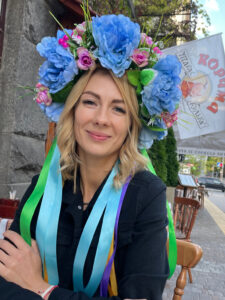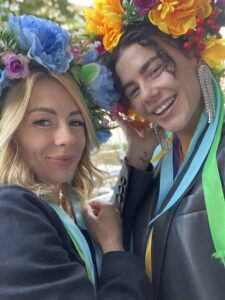 Join our Ukrainian Gift Basket Raffle
Please watch Nadiia's video to learn more about our Ukrainian Gift basket Raffle.
Our raffle is open to any donation from now until Ukrainian Christmas January 6th 2023.  Each $5 donation adds your name to the raffle. For instance a $20 donation gives 4 chances to win.
For an additional cost we can also ship the basket to the winner anywhere in the US
Your Donations are Matched Dollar for Dollar
Ukrainian Word of the Day
Merry Christmas 
З Різдвом Христовим!
Pronunciation: Phonetic "Zh Rizdvom Khrystovim"