A successful first Tasting Event
We first wanted to give a huge thank you to over 40 people who could attend to our first Ukrainian Tasting Event on April 30th. Without your support we would not feel so empowered to keep raising money to help people in Ukraine each and every day.  With your support, both to those who could attend, and those who couldn't we raised over $4000.  This is truly inspiring and which is why we are already planning another one. Fingers crossed as we look for a larger venue.
Side note: For those of you who were able to attend our event and took photos or video if you could share with us that would be great. Send to: [email protected]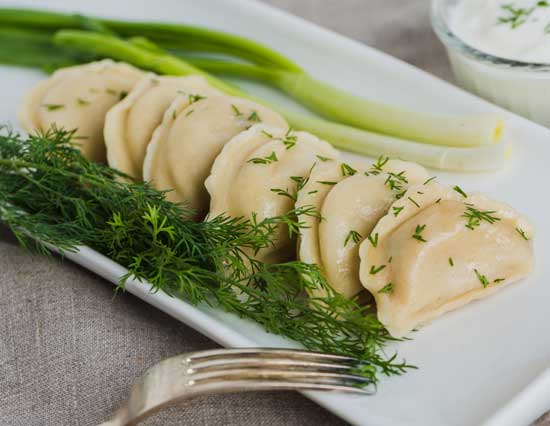 Authentic Ukrainian Food to Enjoy at Home
We have finally completed our online ordering section of our website so you can order Authentic Ukrainian Food to enjoy at home. We will be adding more items as time permits but currently we are offering 6 different versions of Varenyky as a donation.  We hope you like them.
You can order above or by following our ONLINE ORDERING link. 
Progress | May 9th 2022
With your continued support we continue to deliver Food & Essentials to over 2000 people in Nova Kahovka, Ukraine. During our tasting event on April 30th we displayed a close approximation of what we are delivering each week. 

These basic items in Ukraine total cost is about $15 usd. 
This will feed a family of two for approximately 7 days.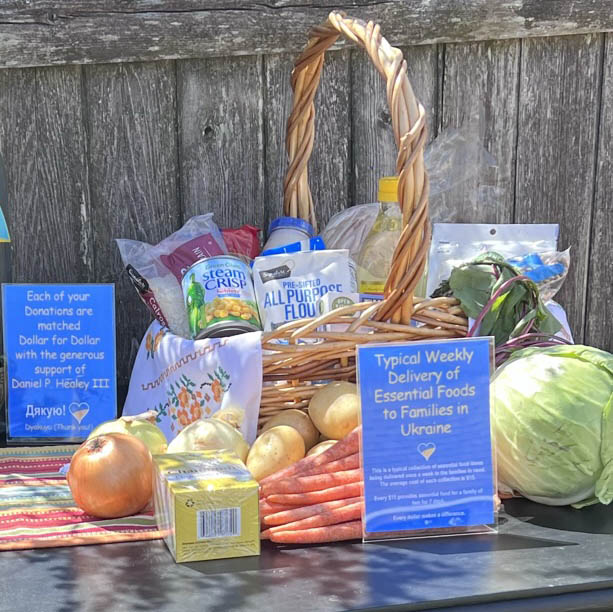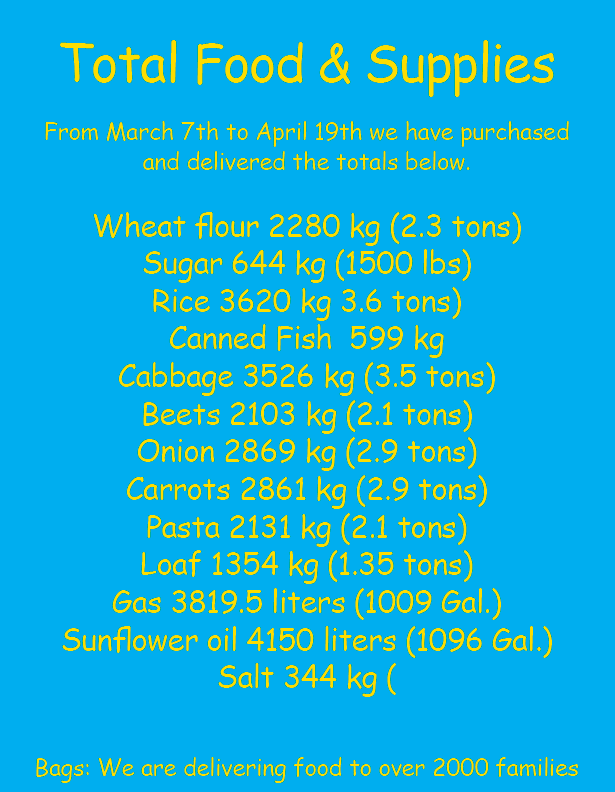 We finally had the time to calculate the amount of food we have been purchasing and delivering to date.  None of this would be possible without the help of your continued donations from all of you.  
Challenges
Russian Military are continuing to stop our volunteers deliveries, checking phones and searching our cars. Cellular services are getting worse. We are seeing cellular services drop for sometimes days at a time with only intermitted land based cable operational in the outlying villages. Russia has started to re-route cable-based internet traffic from Ukraine local providers through Russia's internet providers in order to monitor traffic. This means our volunteers have to either wait for cellular services to come back up or make sure the communication is encrypted. 
Last week Russia stopped allowing people to flee and enter the city. For drivers that have been helping to get people out of Nova Kahovka and were already in route are not able to come back. 
We have been continuing to provision our bomb shelter and have supplied most items needed to sustain over 100 people for 40 days.  We are also actively searching for more locations to start provisioning.  
Ukrainian Flower Crowns
Nadiia is now making Ukrainian flower crowns to sell on Etsy as well as at our next Tasting Event. Proceeds will go to our cause helping people in need in Nova Kahovka, Ukraine.
History
"The "vinok" (wreath or crown) has been worn for centuries by girls and young women to symbolize purity and fertility. The wreaths are believed to have pagan origins that predate the introduction of Christianity to the Eastern Slavic world in the 10th century. They are part of a traditional culture that Ukrainians are embracing in daily life."
Sometimes its difficult to stay focused on our cause when we read and hear so much heartache and watch the devastation around Ukraine.  Every day we remind ourselves to stay focused not only because we think it is the right thing to do but because so many people rely on us for the food they need and all the other essentials we take for granted. 
Your donations mean so much more than just giving to a cause, you are touching peoples hearts in Ukraine everyday.  
Thank you, 
Jarred & Nadiia Sadowski