Come Join Us
Custom House Maritime Museum in Newburyport June 12th at 4pm - 7pm
Authentic Ukrainian Menu
Nadiia has been working with her mother in Ukraine to create an all new Summer Menu
Join us for our second Authentic Ukrainian Food Tasting Event
June 12th 4pm -7pm
With less than 2 days to our second Authentic Ukrainian Food Tasting Event being hosted at the Custom House Maritime Museum (back lawn under the tent) 4pm – 7pm, we have been busy getting ready for you. Nadiia will have an all new menu of Ukrainian food tastings for you to try as well as more yard signs, Nadiia's handmade floral crowns and more.
Our event is open to the public and like our last event we welcome all of you to you to join us to experience Ukraine. We hope you can make it.

June 1st | International Children's Day
With your support and continued donations we were able to celebrate International Children's Day on June 1st inviting over 100 Ukrainian families & children throughout the day to a local restaurant where, with your help, provided a full day of pizza, strawberries and activities to children across Nova Kahovka, Ukraine. We were able to accomplish this, even with Russian occupancy, with our volunteers scheduling families arrival times so we didn't have too many families overlapping.  This allowed many children to see and play with others all while not raising any kind of suspicion to any organized event. With a complete success and so many happy children we can only smile. 
Cellular Service & Our day-to-day challenges
Both wired home internet and cellular services were cut by Russian military on May 27th.  They have been rerouting wired communications via occupied Crimea (Russian) systems. For over a week this had made our day to day communications, organizing deliveries, nearly impossible.  Thankfully, connections both wired and cellular started to appear, although weak, in some areas of the city allowing us to continue our volumes of purchases and deliveries.  
Russian Military have also completely blocked the ability for anyone to leave or move from city to city putting more pressure on local food supplies to keep up with demand. 
As we make purchases each an every day to feed now over 3000 people each week cash is always a complicated challenge and becoming more difficult to make some purchases from stores still too afraid to rely on electronic transfers. Thankfully we found another local resident willing to exchange a sizable amount of cash for a wire transfer.  We know the cash is out their as many are using it, the challenge is convincing store owners that holding so much cash is a risk and that we can offer a way to get that cash safe into their banking systems via wire transfers.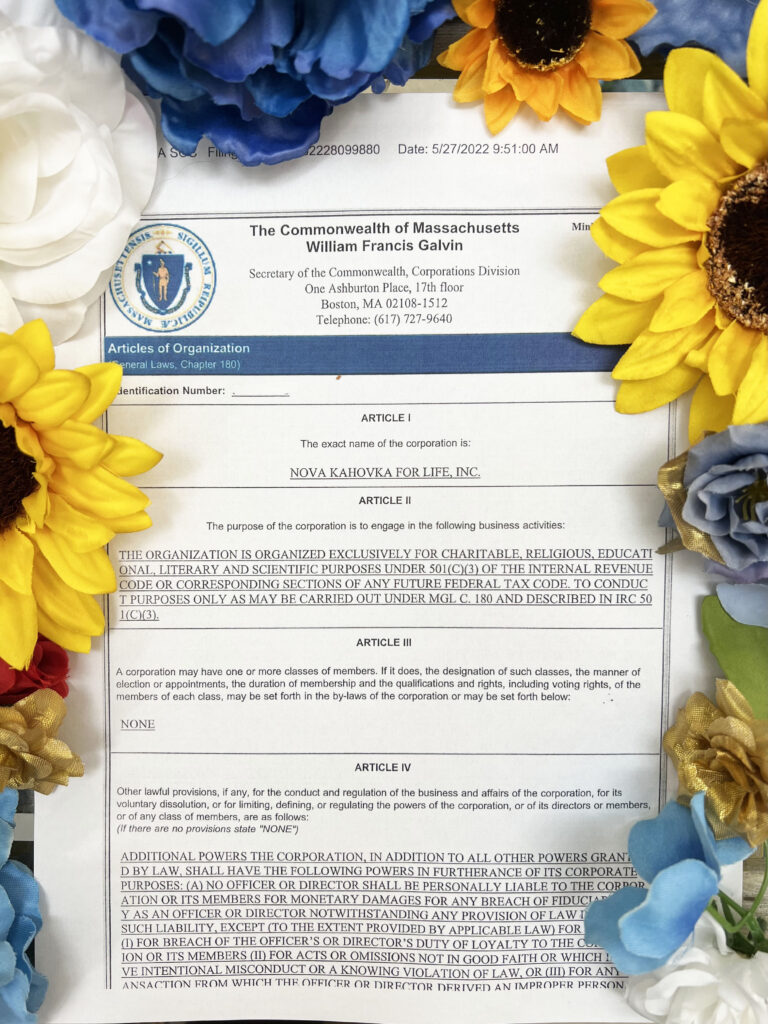 We are an official
Non-profit 501(c)(3)
With your help, we are now officially a non-profit 501(c)(3) on May 27th 2022 | Nova Kahovka for Life, Inc.  This would not be possible without your continued support and donations as well as Dan Healey, who is matching your donations dollar for dollar and supporting our cause step by step. 
We are truly grateful.
Jarred & Nadiia
Please feel free to read our previous posts on our progress if you happened to miss any of them. 
We are excited to be raffling off 3 Ukrainian baskets. Each basket has a collection of items we received directly from Ukraine this year.  All
Read More »